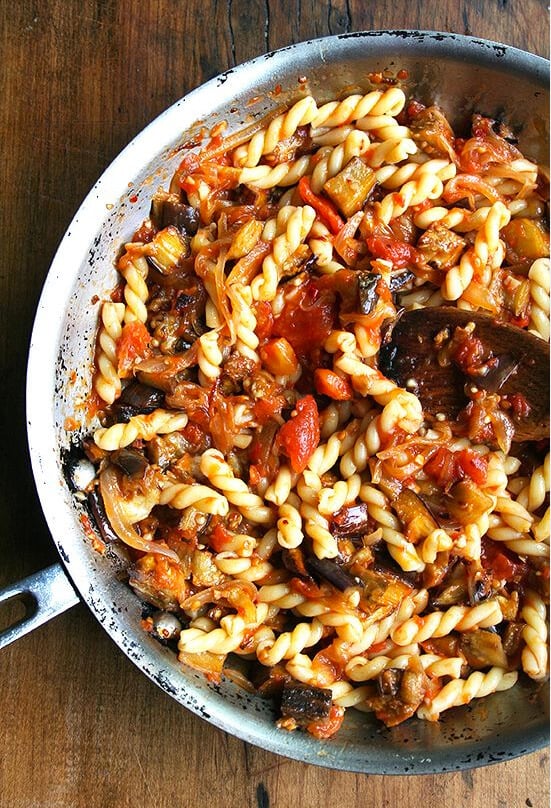 I don't know about you, but I'm up to my eyeballs in eggplants here. My CSA delivery last week could have fed a small village, and I'm still feeling a little overwhelmed. Overwhelmed in a good way though. I mean, I've been eating my way though a very delicious eggplant chapter in Chez Panisse Vegetables, so far delighting in eggplant gratin with tomato and onion, and roasted eggplant and tomato pizza. I know, it's been rough.
But this pasta. Oooooh, this pasta. This pasta recipe unexpectedly has eclipsed its chapter companions, its deliciousness attributed to perfectly ripe eggplant, the freshest tomato sauce, sweet basil, caramelized onions, and above all to a most unsuspecting ingredient: sherry vinegar. I don't know how just a splash of anything could so transform a dish, giving it a depth of flavor that subtly persists through layers of tomatoes and eggplant and onions, but somehow the sherry vinegar has.
There's something, too, about the way the roasted eggplant melds with the caramelized onions and the tomato sauce that makes cheese totally unnecessary. No cheese on pasta, you ask? Hogwash, you shout!  I mean it. This roasted eggplant tomato sauce spiced with crushed red pepper flakes and freshened with basil was enough for me. I even had some homemade ricotta in the fridge. I even had a bowl of freshly grated Parmigiano Reggiano sitting inches from my plate throughout dinner. I had no trouble refraining.
While I know a bowl of hot pasta perhaps isn't crossing your mind very often in late summer, eggplants are reaching their peak right about now, and they are oh so good. Give this recipe a go. It's a keeper for sure.
Finally, if you like  summer pastas, you might like this dish, too.
Eggplant from our Olin-Fox Farm CSA:

Gemelli with Eggpplant and Tomato
Adapted from Chez Panisse Vegetables
Serves 4 to 6 (or 2 generously…see my notes for a smaller yield)
2 large globe eggplants (I used 1 eggplant, which yielded about 3 cups of diced eggplant weighing about 9.5oz)
olive oil
1 onion, peeled and thinly sliced (about 2 cups sliced)
2 cloves garlic, minced
1 handful basil leaves
1 handful parsley leaves (I used only basil)
kosher salt
1 lb. penne (I used 1 cup of Gemelli pasta but use whatever you like)
sherry vinegar
2 cups tomato sauce (I used 1 cup of this sauce)
red pepper flakes
1/2 lb. ricotta salata cheese (I used no cheese, but served grated Parmigiano Reggiano on the side.)
1. Preheat the oven to 400ºF. Cut the eggplants into cubes about 3/4-inch square, toss them lightly with olive oil and spread them out in a single layer on a sheet pan. (Note: I've made this twice now, and my instinct the first time was to toss the eggplant with some kosher salt before roasting. The instructions don't call for this, and second time around, I used no salt, and I think the eggplant came out better.) Roast in the oven for 25 minutes or so, until the eggplant is brown and tender.
2. Put a large (or small) pot of water on to boil for the pasta. Add a large pinch of kosher salt. Cook the pasta al dente.
3. Meanwhile, heat a large sauté pan with the olive oil and onions over medium heat. Sauté the onions until just caramelized. (Note: I started the onions when I put the eggplant in the oven — I find that caramelizing onions slowly over medium heat works best. I also added a pinch of kosher salt while sautéeing. The onions probably sautéed for 25 minutes to 30 minutes total.) Add the garlic and cook for a moment more, and then deglaze with a splash of sherry vinegar. Add the eggplant, tomato sauce, and a pinch of red pepper flakes. Heat the sauce to simmering. Drain the pasta, add it to the tomato sauce pan, and toss gently. Chiffonade the basil and add it the pan.
4. Serve the pasta with a generous garnish of the chopped parsley (I omitted) and ricotta crumbled over the top (I also omitted, but served Parmigiano Reggiano on the side.)