My sister, the doctor, lover of pies and Peeps, is hosting Thanksgiving this year. She has it all under control, sleeping arrangements organized, color-coded cooking timeline mapped out, and the menu finalized, promising her 12 guests a turkey, a spanakopita, cranberry sauce (not this one) and pie.
To help lighten her load, I've signed up to bring punch, stuffing, bread, and this potato gratin, a dish my mother has served at nearly every big holiday gathering for as long as I can remember, one that often steals the show no matter what it's beside, turkey or otherwise.
It comes from Chez Panisse Vegetables, which offers a number of enticing combinations — potato with turnips or celery root or leeks or sweet potato — but we almost always use potatoes exclusively and keep the seasonings simple too: salt, pepper, thyme and just a dash of freshly grated nutmeg. Submerged in a mixture of equal parts heavy cream and chicken stock, topped with a mixture of gruyère and parmesan cheeses, these potatoes emerge irresistibly crispy on top and creamy underneath.
This gratin couldn't be easier to throw together, and you can't mess it up. I promise. Hope all of your Thanksgiving preparations are going well.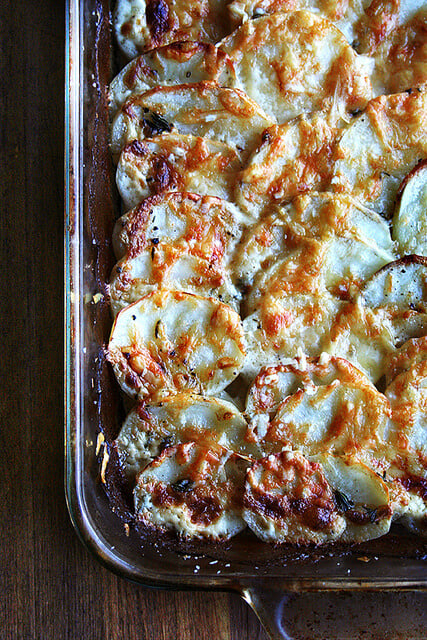 My mother swears by red potatoes. I've learned not to question.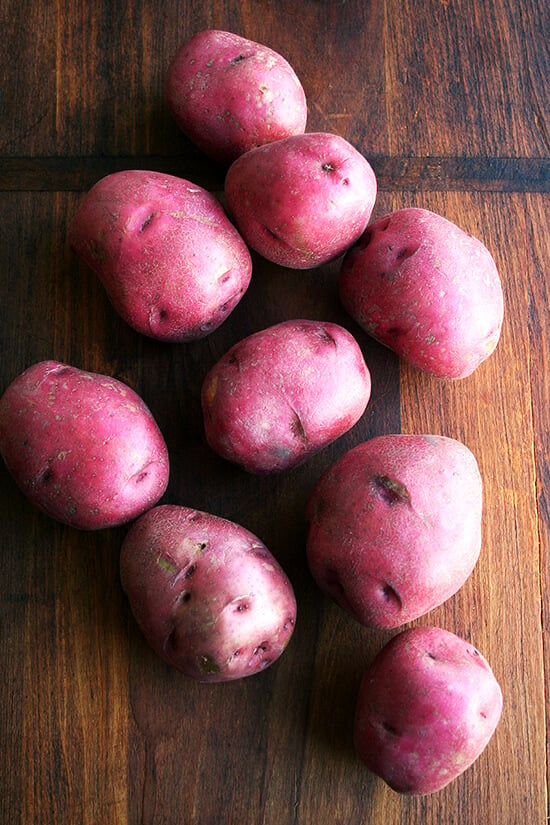 A mandoline makes quick work of the slicing, but if you don't have one, don't worry.

Rub baking dish with butter and garlic:

Season the potatoes with salt, pepper, and thyme leaves:

Add another layer of potatoes and season in the same manner:

Submerge the potatoes with equal parts heavy cream and chicken stock…:

… then top with a combination of grated gruyère and parmesan cheeses:

Bake for 45 minutes to an hour: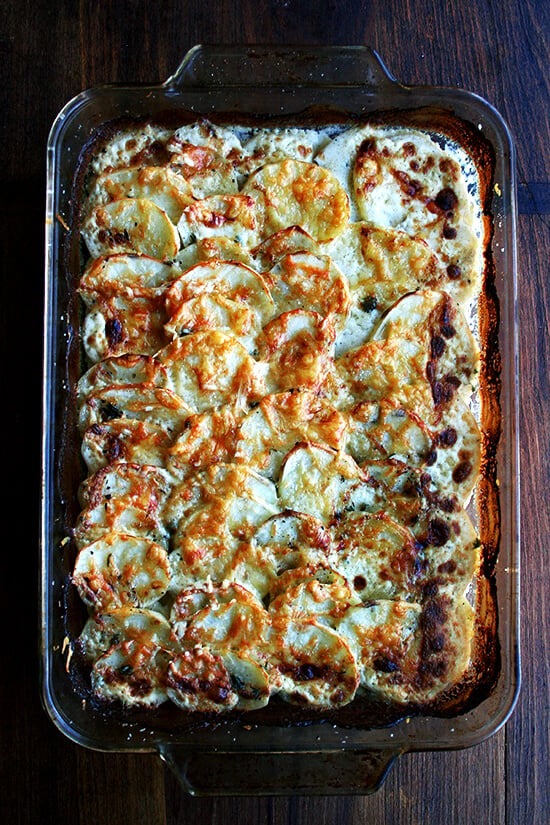 A few other ideas for Thanksgiving (images link to recipes): Red Wine Cranberry Sauce, Peasant Bread, Pomegranate-Green Olive Salad, Cheddar Biscuits, Balsamic Brussels Sprouts, Apple Sauce, Slow Cooked Kale, Philadelphia Fish House Punch, Cranberry Buttermilk Breakfast Cake, French Apple Tart, Apple Pie, Maple Cream Tart. And you can find a few more ideas here.
Seriously, I cold totally skip the turkey.

[tasty-recipe id="44552″]