A quick bread made with brown sugar and white, eggs and oil, this super moist zucchini bread makes a wonderful addition to breakfast coffee or afternoon tea all summer long. When prepared in mini loaf loaf pans, it makes a nice gift as well. I have been making this recipe for years, an oldie but such a goodie, a hit with adults and children alike.
Although I picked up my 10th CSA today, I'm still playing catch-up in my documentation of produce deliveries. Here's week 4:
CSA Week 4, Summer 2007
1¼ pound bag of pea tendrils
1 head green butterhead lettuce
1 crown broccoli
2 small zucchini
1 bunch scallions
1 head green or red leaf lettuce
1 kohlrabi root
1 quart strawberries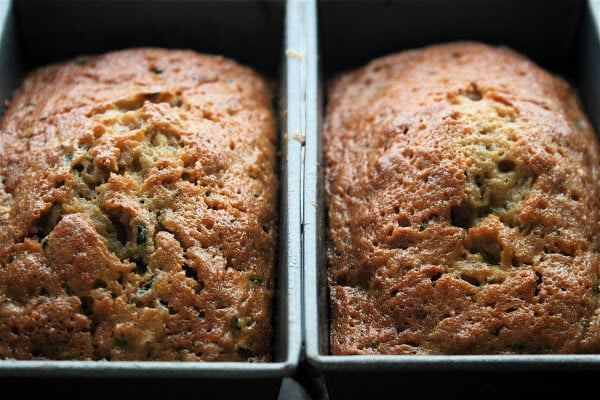 Zucchini Bread
Yield: 1 large loaf or 3 mini loaves
a scant 2 cups (8 oz.) flour
¾ teaspoon baking powder
¾ teaspoon baking soda
1 tsp. cinnamon (optional — I make it without these days)
1 tsp. kosher salt
1 cup light brown sugar
½ cup granulated sugar
¾ cup vegetable oil
1 teaspoon vanilla extract
2 eggs, lightly beaten
2½ cups grated zucchini
Preheat the oven to 350˚F. Grease loaf pan or pans. Whisk together first five ingredients. In a separate bowl, whisk remaining ingredients except zucchini. Add zucchini to the flour mixture and toss to coat. Add dry to wet and stir till until combined. Pour into pans. Bake until toothpick comes out clean, about 35 – 45 minutes for mini loaves, and 45 minutes to 1 hour for a standard loaf pan.