On January 23rd, 2006, two cases of duck legs arrived to the restaurant, and per the day's to-do list, I threw them into hotel pans, covered them with a layer of kosher salt, then headed to the walk-in to find the duck fat. This was how we made duck confit at the restaurant: 1 case of duck legs per hotel pan, liberal coating of kosher salt, duck fat submergence, tight covering of aluminum foil, two and a half hours in the oven.
But when I got to the walk-in, I couldn't find the duck fat. I looked and looked. I had made the mistake more than once of declaring we were out of something when we weren't, and so I looked some more. Shit, I thought. But before running to the chef, I looked and looked again. It had to be there. I was positive this was the greatest conspiracy of the inanimate I had ever faced. There was no way two 8-quart tubs of duck fat had walked out of that walk-in.
But after awhile, I had to tell the chef. He looked too. He couldn't find it. We suspected it had been tossed. There had been a lot of turnover in the kitchen staff in recent weeks, and it was likely someone had innocently trashed the duck fat, a supply the chef had been building for eight years, a supply that grew more flavorful with every use, the key ingredient to one of the restaurant's staple dishes.
After the chef berated me for allowing this to happen, noting that this — me — is why he could never take a vacation — oh, the drama! — let alone a day off, he set to work rectifying the situation. Into each hotel pan he tossed pounds and pounds and pounds of butter along with a few sprigs of thyme. Then he cooked the legs just the same: tightly covered with foil for two-and-a-half hours. And when those legs emerged from the oven, we stored them just the same: legs in one tub; fat, clearly labeled, in another.
That evening, the line cooks crisped up those duck legs as always, standing them up dramatically against mounds of frisée tossed with crispy lardons and pan-seared brussels sprouts. Nobody suspected a thing. Losing 16 quarts of duck fat turned out to be not such a big deal, but if the specificity of the date is any indication, I've never quite recovered from the experience.
Have you ever wanted to make duck confit at home? Have you been deterred by the two-day process as well as by this ingredient: 3-quarts of duck fat? Have you searched to no avail for duck fat at your grocery store? Have you looked online only to discover that such a purchase might set you back 50 bucks or so before shipping?
Well, if so, I have some good news: you can make pretty damn good duck confit in about three hours with only three ingredients: duck legs, salt, and butter. It may not be traditional, but it might be the fastest, most-delicious bistro-style meal you ever prepare. What's more, after you make it once, you'll start building your own supply of duck fat, which, so long as you run a tight ship, you might just have on hand forever.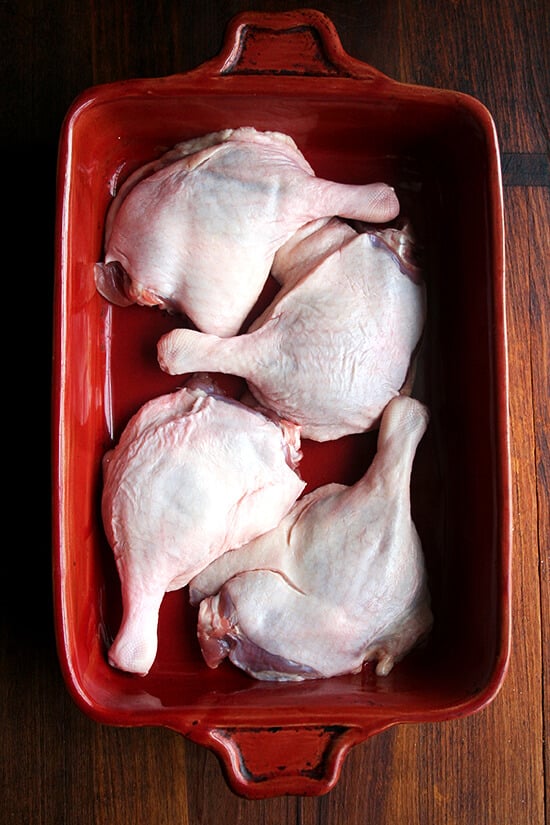 Before you are deterred by the quantity (1 lb. or 2 cups) of butter, take a look at the third photo below with the retrieved fat.

This is the amount of fat retrieved from the baking pan: 1.75 cups. So essentially, only 1/4 cup of fat — that's 1 tablespoon per leg — goes into the cooking of these legs.

The second time you make duck confit, use that fat you saved from your first batch:

And when you are ready to crisp up the legs, if you feel like being fancy, use the heel of your knife to whack off the end of the bone…

and trim away any fat extending up the bone:

Note: This is not a recipe for making traditional duck confit, which tends to be a lengthy three-phrase process of salting, rinsing and then simmering in fat. Traditionally, too, confit is stored in fat, which will preserve it for months.
Do not be deterred by the amount of fat here (or in any confit recipe). Very little fat ends up in the meat, and the duck confit itself does not taste fatty.
I've been serving these duck legs with this brussels sprouts salad. I recently updated that post (after hearing from a few of you — thank you!) about a better way to extract the pomegranate seeds.
Cheaters' Duck Confit
Serves 4
4 duck legs
1 tablespoon kosher salt
1 lb. butter
1. Preheat the oven to 325ºF.
2. Place duck legs in a smallish baking pan — you want them to fit somewhat snuggly (more snug than what you see in the pictures is just fine). Sprinkle with the tablespoon of kosher salt. Cover legs with sticks of butter, breaking the sticks in half if necessary. Cover pan tightly with aluminum foil — use a couple of sheets of foil if necessary. Be sure to wrap tightly.
3. Bake for 2.5 hours. Remove pan from oven. Let cool briefly, then remove foil to cool completely. Once cool enough to handle, transfer legs to a plate (if serving immediately or within the next few hours) or a storage container (if serving on subsequent days). Transfer fat to a storage container. Label it duck fat. Store in fridge indefinitely. When you make confit again, use this fat in place of butter. (Note: You may need to pop your vat of duck fat in the microwave so that you can pour it out of its container. Alternatively, plop the container into hot water, or let it sit at room temperature for a few hours.)
4. If possible, bring the cooked duck legs to room temperature an hour before cooking. If you feel like being fancy, use the heel of your knife to whack off the top half of the bone nub at the end of each duck leg (see photo for guidance). Also, trim off any fat extending up the bone. Note: this is purely for presentation purposes and truly is not necessary.
5. Preheat the oven to 350ºF. (Note: preheating the oven is only necessary if you've stored your legs in the fridge.) Heat a cast iron skillet over medium heat. You should not need to add any fat to the pan — the duck legs should have enough fat clinging to their skin sides. Once hot, add duck legs skin side down. Let them crisp undisturbed for a minute or two. Shake the pan to make sure the skin isn't sticking. If it is, use a spatula to gently separate the legs from the pan, being careful not to tear the skin. Continue crisping, repositioning the legs if necessary to ensure the skin is browning evenly, about 5 to 8 minutes total. If the legs have been refrigerated, once the skin is nicely crisped, transfer pan to the oven (no need to flip the legs over) for 7 to 10 minutes or until the meat is nicely heated through. If the legs have not been refrigerated, you probably can get away with just flipping the legs over and cooking for one minute skin side up. You don't want to cook the legs too much on the flesh side or the meat will get too tough.
A few other things:
1. In honor of the Wisconsin Cheese Cheese of the Month, Fontina, I made a Pear, Fontina & Caramelized onion galette. I love savory galettes, and I love fontina — it melts so beautifully! My all-time favorite use for it is the Barefoot Contessa's Baked Fontina, which if you have yet to discover, you must do so immediately: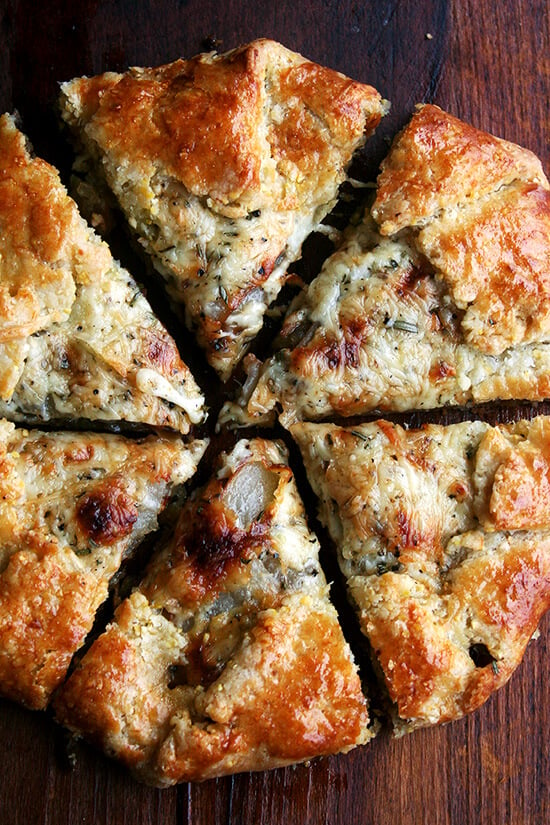 2. Also, over on Food52's Heirloom Recipes column, I shared my great grandmother's recipe for chicken kapama, a braised chicken seasoned with cinnamon sticks and tomato sauce, a dish I adore and grew up eating:
3. Updated pomegranate seed-extracting method — so much easier!: