Homemade breadcrumbs slipped into our dinner regimen slowly, appearing on our salads to start, the kale caesars in particular, quietly replacing croutons altogether. But shortly after their introduction, perhaps encouraged by their warm reception, they made haste, and soon began garnishing our pastas, mingling with our roasted vegetables, delicately topping our fish fillets. These days they've gotten completely brazen, sometimes accompanying every item on the plate. I don't know when this trend will fizzle, but I'm liking it very much at the moment.
The inspiration to start whizzing my stale bread in the food processor, storing the crumbs in the freezer, and toasting them in a skillet with olive oil at the dinner hour, came from two sources: a great chef interview on the kitchn in early November and the editor's letter in this month's bon appètit, which offered tips on how to be a better cook from seven renowned chefs around the world including Mario Batali who admits that "there's almost nothing [he] wouldn't put homemade breadcrumbs on." I'm starting to share this sentiment. These crunchy, salted, olive-oil toasted bits are truly addictive.
What's best about this recent addition to the pantry is that it makes use of an ingredient that often was destined for the trash. Now, stale bread never goes to waste. At the first sign of its aging, into the food processor it goes, and from there, into the freezer it gets stashed.
What's more, just when I think I have nothing to serve for dinner, toasted breadcrumbs along with a few pantry items — garlic, crushed red pepper flakes and anchovies — come to the rescue, working together to produce an unbelievably tasty dinner. This pasta dish, inspired by a recipe in Batali's Molto Italiano can be spruced up with caramelized onions, if you feel like making them, or sautéed greens, if you have them, but if you don't, don't fret. I promise that with just four ingredients, a delectable dinner will materialize. This is pantry cooking at its finest — quick, easy, delicious.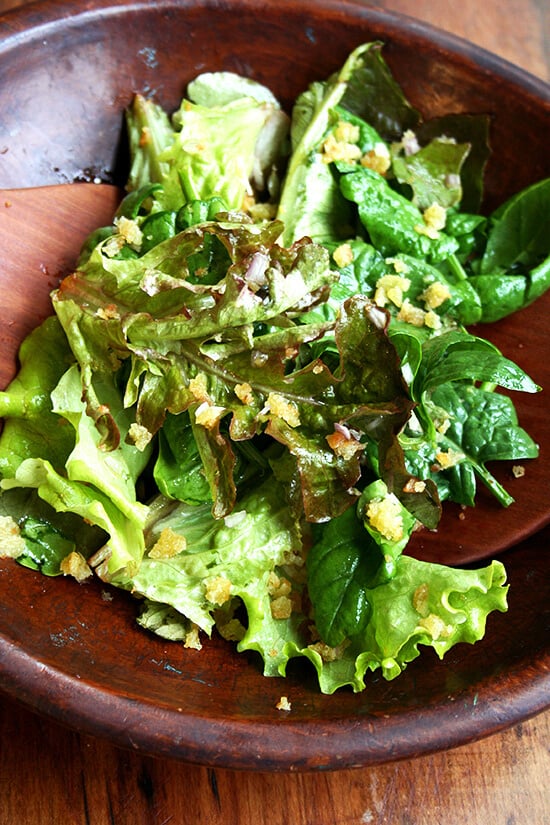 Never let stale bread go to waste again: tear it up; throw it in the food processor; pulse until fine; store the crumbs in an air tight container or ziplock bag in the freezer for months.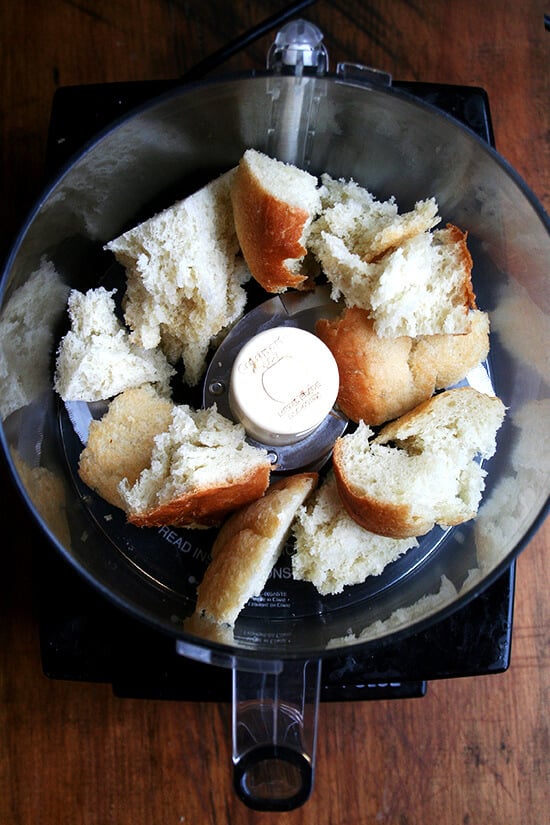 When you're ready to toast your breadcrumbs to add to pasta, salad, roasted vegetables, etc: heat about 1.5 tablespoons of olive oil in a skillet over medium-high heat; sprinkle in about a cup of bread crumbs; season with a pinch of salt; stir until golden; remove from heat until ready to use.

With these four ingredients on hand, you have the makings of an unbelievable pasta dish.

Pasta with Toasted Breadcrumbs, Anchovies, Garlic & Crushed Red Pepper
Inspired by a recipe in Mario Batali's Molto Italiano
Just a quick note about this cookbook: Molto Italiano. If you like Italian cooking, this book is a source of endless inspiration. I have had it for years now, and it is always the one I turn to when I just want to flip through something and start dreaming. What's nice about the book's recipes, especially the pasta ones, is that they aren't overly precise and can be used as a guide and tailored to what you have on hand or to your preferences.
1/2 lb. pasta*
kosher salt
1/4 cup extra-virgin olive oil
1/2 teaspoon (or more or less to taste) crushed red pepper flakes
4 cloves garlic, thinly sliced
4 to 5 anchovies** (or more or less to taste), minced
freshly cracked black pepper
1/4 to 1/2 cup finely chopped fresh basil or parsley (or more or less to taste)
1 cup toasted breadcrumbs (recipe below)
caramelized onions*** (optional, recipe below)
*I love this shape (caserecce, which can be found here), but I also love any short pasta like campanelle or orecchiette or gemelli — anything that will catch all the goodness of the sauce. The original recipe called for spaghetti, but it just doesn't catch the sauce as well as these other shapes.
**The original recipe also calls for using those salt-packed anchovies, which I can never find at my markets, but if you get get your hands on them, apparently they are a treat.
***The original recipe calls for adding caramelized onions, which add a nice sweetness and are of course a delicious addition — seriously, so good — but if you don't have the time, energy, or desire to make them, just leave them out.
1. Bring a large pot of water to a boil. Add a big pinch of kosher salt. Add pasta and cook al dente. Reserve 1/2 cup of the pasta cooking liquid. Drain. Set aside.
2. Meanwhile, in a small skillet, place oil, pepper flakes, garlic and anchovies. Bring to a sizzle over high heat. Swirl around so that all of the ingredients mingle together — 30 seconds or so — then remove pan from heat. Set aside.
3. Place pasta in a large bowl. Add about 2 tablespoons of the reserved pasta cooking liquid and toss. Add the anchovy-infused olive oil mixture and toss well. Taste. Add more pasta cooking liquid if necessary. Season with salt (if necessary) and fresh cracked pepper if you wish. Add chopped basil, breadcrumbs and caramelized onions (if using) and toss well. Serve.
Homemade Breadcrumbs
Source: the editor's letter of bon appètit January 2013
Note: As I mention in the post, I make breadcrumbs whenever I have stale bread on hand. Once you have a stash of whizzed breadcrumbs in your freezer, making toasted breadcrumbs to add to various dishes becomes effortless. I usually make smaller batches, using about a tablespoon and a half of olive oil per cup of breadcrumbs.
stale bread
olive oil
kosher salt
Tear about 1/4 of a good loaf of rustic white bread (fresh or day-old) until you've got 2 cups 1-inch crustless breadcrumbs. Pulse in a food processor until crumbs are coarse. Toast crumbs in about 3 tablespoons olive oil in a large skillet over medium-high heat, tossing frequently, until crunchy and golden brown, about 5 minutes. Season with kosher salt and let cool on a paper towel-lined plate. DO AHEAD: Breadcrumbs can be made 1 day ahead. Store airtight at room temperature.
Caramelized Onions
Yield = 1 heaping cup
4 cups diced onion (from about 3 to 4 small to medium onions)
2 tablespoons butter
kosher salt
1/2 teaspoon sugar
1/2 teaspoon vinegar (red wine, white wine, sherry, balsamic — anything) (optional)
freshly ground black pepper to taste
1. In a large sauté pan, melt the butter over medium heat. Add the onions, season with a pinch of salt and cover the pan. Cook covered for about 15 minutes.
2. Remove the cover, and increase the heat slightly. Continue to cook for another 10 minutes, stirring occasionally to make sure the onions are not sticking. Sprinkle the sugar overtop and cook for an additional 10 to 15 minutes, stirring more frequently now, until the onions have turned a nice deep brown. Pour in the vinegar, turn off the heat, and scrape the bottom of the pan with a wooden spoon or spatula to remove any browned bits. Take pan off the heat and transfer onions to a large bowl to cool.
I love a citrus vinaigrette this time of year:

I have always loved the Chez Panisse Vegetables technique for making salad dressings, which often starts with macerating shallots in citrus juice or vinegar. This is what I have been doing lately:
Finely dice a shallot or two. Place in a bowl and cover with the juice of one orange. Add 1 tablespoon white balsamic vinegar. Season with a pinch of kosher salt and a pinch of sugar. Let macerate for 15 minutes, if you have the time, or less, if you don't. Whisk in about 1/3 cup extra-virgin olive oil. It's ok if the dressing is not totally emulsified. Just give it a stir when you're ready to use it and spoon it, making sure to scoop out some of those delicious shallots, over your greens in a large salad bowl when you're ready to toss them with those irresistible toasted breadcrumbs.