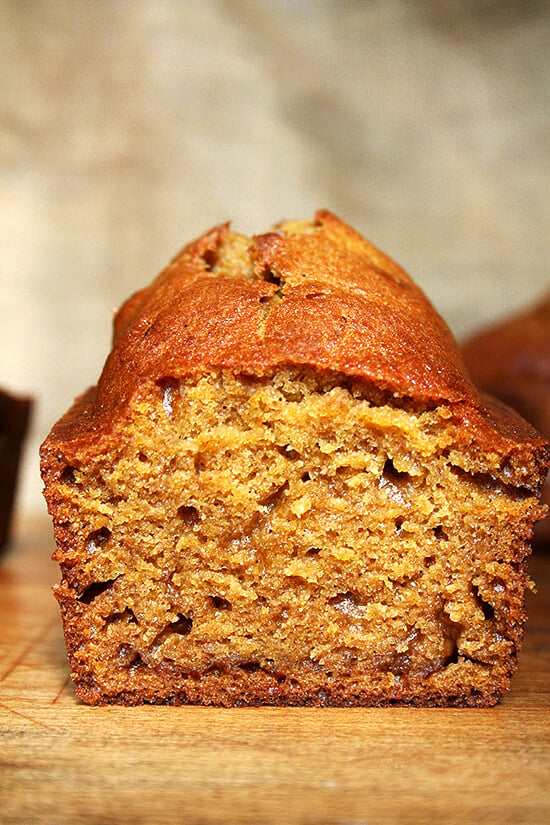 Everyone and their mother has a recipe for pumpkin bread. This happens to be my mother's recipe — not sure where it originates beyond her — and it is incredibly delicious. Made with oil not butter, the batter comes together in minutes. I mixed mine the night before baking, and used mini loaf pans because, well because, I think they're cute, and I suppose because I'm getting excited for the impending homemade-gift-giving holiday season.
What else can I say here? Like many of you I suspect, I am consumed by all things pumpkin at the moment…can't stop dreaming about pumpkin muffins, cheesecake, soup, lattes, fritters, gnocchi, gnudi, yadi yadi yadi. Tis the season! If you don't have a recipe for pumpkin quick bread up your sleeve, this one is a winner. Happy fall!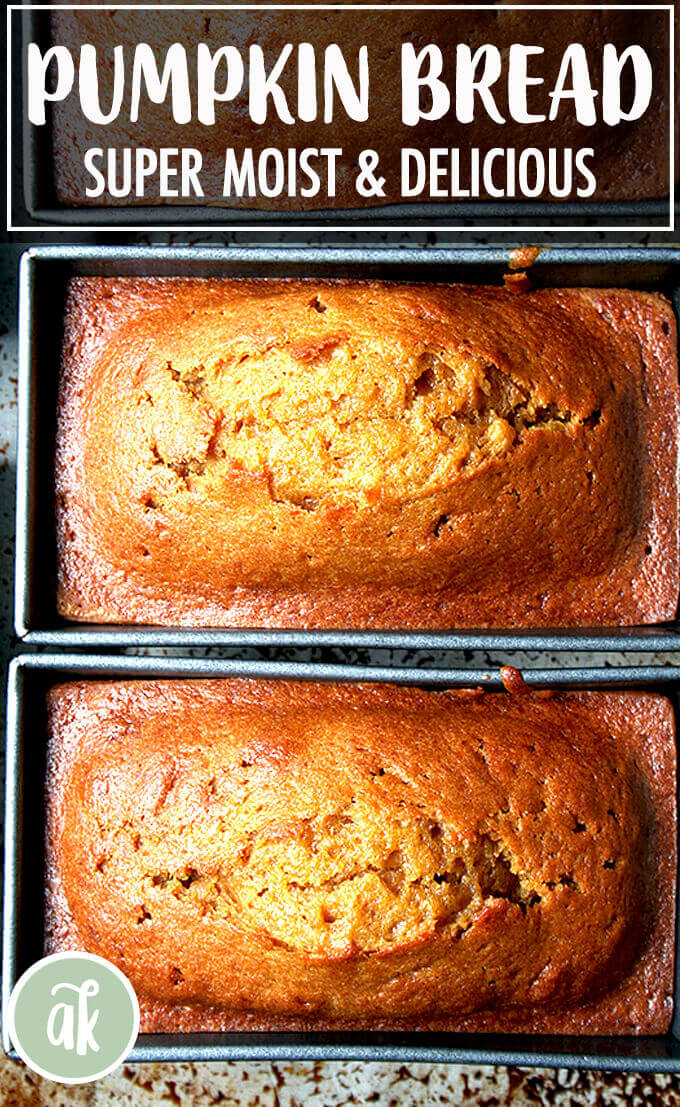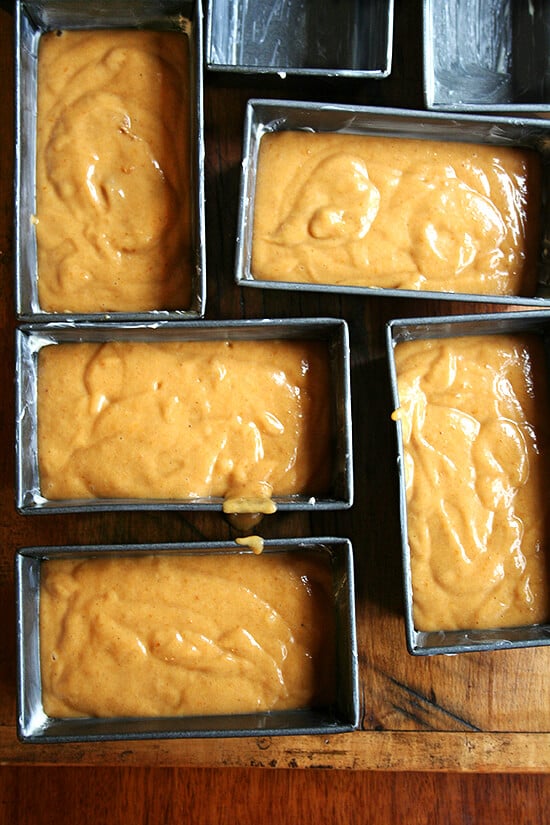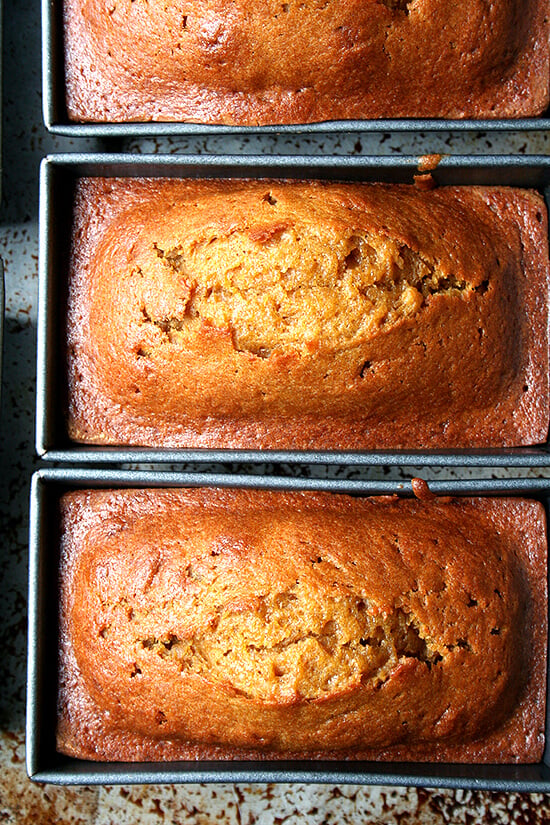 Pumpkin Bread
Yield = 2 standard loaf pans or 5 mini loaf pans
Mini loaf pans can be purchased here.
Disposable loaf pans can be purchased here, too.
2 c. sugar
1 c. canola oil
4 eggs
16 oz. canned pumpkin (not pie filling)
3/4 cup water
3 c. flour
2 tsp. baking soda
1/2 tsp. table salt
2 tsp. cinnamon
1/2 tsp. cloves (optional — I didn't have any so didn't use any)
1/2 tsp. nutmeg (or less — I used about 1/4 tsp.)
1/2 tsp. allspice (optional — I didn't have any so didn't use any)
1. Preheat oven to 350ºF. Grease loaf pans with butter or non-stick spray.
2. Using a stand mixer or hand mixer, beat sugar and oil together until blended. Add eggs one at a time mixing after each addition. Add pumpkin purée and water and mix until blended.
3. Whisk together the flour, baking soda, salt, cinnamon, clove, nutmeg, and allspice. Add to the mixer and mix only until just incorporated. Pour batter into prepared pans.
4. Bake for about an hour (if using standard loaf pans) but start checking for doneness after 45 minutes — the loaves are done when center springs back when touched. Note: When using the small pans, the loaves should be done in under 45 minutes. I started checking after 30 minutes, and the loaves were done after about 35 minutes (or maybe a minute or two longer…lost track of time.)
I love these disposable mini loaf pans, too. They are so pretty! Wonderful for gift giving. I actually baked the loaves in my mini pans before transferring them to the disposable pans — I was thinking this would be less messy —but…oopsidasies, the disposable pans are a wee bit smaller than my non-disposable pans. I kind of had to squeeze the baked loaf to get it to fit. It worked out fine, but next time I'd just as soon bake the loaf in the disposable pan. That's what it's for after all, right?