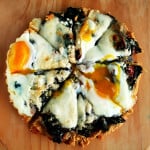 I have an excellent recipe for a buttery, cornmeal tart shell. It NEVER fails to please. Why then, I ask you, must I continue to experiment with other recipes? Oiy. Rarely do they measure up. Tonight I'm annoyed. Truly. I mean, this tart would have been unbelievably delectable had I just stuck to the tried-and-true recipe I know.
Alas. This tart closely resembles the breakfast pizza I made several months ago. The topping is nearly identical: sautéed Swiss chard with garlic, grated cheese (whatever you have on hand), and a couple of eggs — a combination I really adore. OK, fine, I adore eggs on everything, but you know what I mean.
So, I can't in good conscience leave you with a foolproof recipe today, but I can give you some guidance. Use this recipe for the tart shell and follow this recipe for the topping. Combine the two and you'll likely create a yummy dinner. Again, I regret, I am leaving you with yet another recipe that must be revisited shortly.
My Swiss chard plants are still going strong. In fact, they have been consistently productive since I planted them. For all of you novice gardeners out there, Swiss chard is a great vegetable to start a garden with — it is easy to grow and very tasty.
What do you get when you combine heavy cream, half and half, egg yolks, sugar, fresh mint and dark chocolate? Absolute, pure, utter and complete deliciousness. I don't know what else to say about this mint chocolate chip ice cream except that it is one of the best things I have ever tasted. Ever. Seriously.
Fresh Mint Chocolate Chip Ice Cream
Adapted from Alice Q. Foodie's recipe
1 cup half and half
2 cups heavy cream
2 cups lightly packed mint leaves
5 egg yolks
¾ cup sugar
pinch salt
pure peppermint oil* (not extract), optional
1 cup chopped dark chocolate, such as Valrhona 70%, chopped with a chef's knife into ¼-inch pieces
*Peppermint oil can be found at specialty cookware shops. I found mine at Fante's in Philadelphia, but Alice Q. Foodie says Henry's Market carries it as well.
1. In a medium-sized saucepan, heat the cream and half and half with the mint leaves until it's good and hot but not boiling. (You can just touch it lightly with your finger to test it.) Cover pan and set aside to steep for 30 mins. Strain out mint and discard (or compost) it.
2. Whisk yolks in a large bowl. If your cream mixture is still relatively hot to the touch (which it should be after only 30 minutes), slowly ladle the mixture into the egg yolks whisking constantly. Transfer yolk-cream mixture back to the saucepan and add the sugar with a pinch of salt.
3. Cook the custard over medium heat for about ten minutes, stirring constantly with a wooden spoon or heat proof spatula. When the mixture begins to coat the back of the spoon, remove the pan from the heat. (If you have a thermometer, it should be about 170 degrees.)
4. Strain the hot custard into a bowl. If using the peppermint oil, take it and drip one or two drops into the cap of the bottle, then dip a toothpick in the oil and swish it through the custard mixture. (This stuff is powerful and can easily ruin a batch of custard if restraint is not used.)
5. Chill the mixture until completely cold. Churn in an ice cream maker. During the last few minutes of churning, add the chocolate chips. Freeze mixture until ready to serve.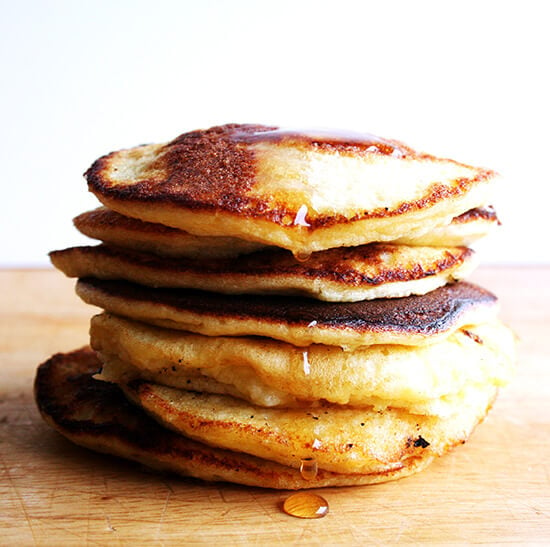 Before I mislead you any further, I'm going to come clean. I don't know the secret to making lemon-ricotta pancakes. In fact, what I flipped around the griddle on Saturday morning was nothing short of a disaster. Breakfast was saved only by the bacon.
Which leads me to the "secret" I am referring to in the title. Several weeks ago, I was up in San Fran dining with a few friends for brunch. One of my friends was being particularly indecisive. I think he sent the waitress away twice, insisting that he "needed more time." My stomach grumbled while he wavered between the burger and the pancakes. He finally chose the pancakes, ordering a side of bacon to satisfy his grease craving. He promised the rest of us he would share. 
And share we did. No sooner had the waitress dropped our food had we ordered another plate of bacon for the table. I had ordered the pancakes, too, and I have to say, with the addition of a few strips of crispy bacon, I don't think I've ever been more satisfied with a brunch order. I'm always tempted by dishes such as French toast, waffles and pancakes, but I always worry about missing the greasy, savory egg dishes. A side of bacon, I've discovered, is the perfect solution. So, I suppose, all I can share with you today is this: perhaps the secret to enjoying pancakes is to eat them with a little grease?
Now about these pancakes. Several years ago while visiting my sister in NYC, I ordered lemon-ricotta pancakes for brunch at Sarabeth's in the upper west side. I have been dreaming about them ever since and over the years have saved countless recipes from various newspapers and magazines. After comparing the recipes, including a handful from the blogosphere, I chose this one and set to work.
Now, I don't want to blame the recipe because I think I'm partly at fault. I have never figured out how to make pancakes. By the time I get my rhythm going and start cooking the pancakes properly, I've eaten about 100 and can hardly bear to look at the griddle any longer. That's precisely what happened this weekend. But even the pancakes that I believe I cooked properly lacked the flavor I remember so fondly. The lemon flavor certainly came through but the ricotta was indiscernible, likely a tribute to the icky ricotta I purchased at my grocery store.
So I wish wish wish I could leave you with an awesome recipe for lemon-ricotta pancakes, but alas I cannot. I am determined to make these again soon, however, and when I do, I hope to report back with more favorable results.

On a side note, imagine my excitement upon seeing this month's Saveur in my mailbox. Look at this cover! Pure genius. There's a nice little two-page spread offering detailed instructions for cooking eggs four ways: baked, sunny-side up, soft-boiled and scramble. Might be a good thing to tuck inside a cookbook for future reference. Just a thought.