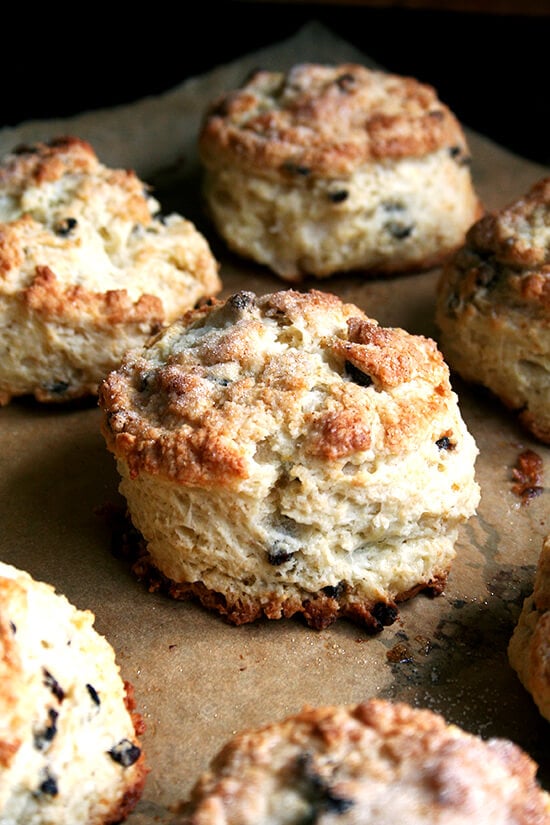 I'm preparing for Thanksgiving and for my sole visitor, my father, who loves a proper English scone. Unfortunately, these currant scones, I am fairly certain are not proper by any British standards, and I'm fairly certain that serving them with lemon cream is not proper either. What I am certain about, however, is that after one bite, my father will tell me that what I have created is not in fact a proper British scon. And then he'll proceed to devour two or three, slathering each with lemon cream, uttering mumbles of approval all along the way. I can't wait.
I'm sorry to bore you with a recipe I've posted about before, but when I find a recipe I like, I tend to stick with it. Tartine's buttermilk scone recipe is the one I use year-round, studded with berries in the summer and currants in the winter. The recipe yields a huge batch, too, which is nice when planning for visitors, so I froze eight unbaked scones for Thanksgiving morning.
With scone dough stashed away, I thought it would be fun to have some of Tartine's lemon cream on hand, too, a recipe I overlooked in the cookbook but have had bookmarked since seeing it on Food52 a few months ago. The cream is as luscious as promised, and I cannot wait to serve it, though I suspect my father is going to ask if I've got any clotted cream around. Also, just a note: these scones certainly don't need anything as spectacular as homemade lemon cream — they honestly don't even need a dab of butter — but if you're feeling the gilding-the-lily spirit that is the holiday season, then go for it.
Incidentally, I have been watching Call the Midwife — amazing! — and have been craving proper English scons since hearing the midwives giggle about them in the last episode. [Read more…]