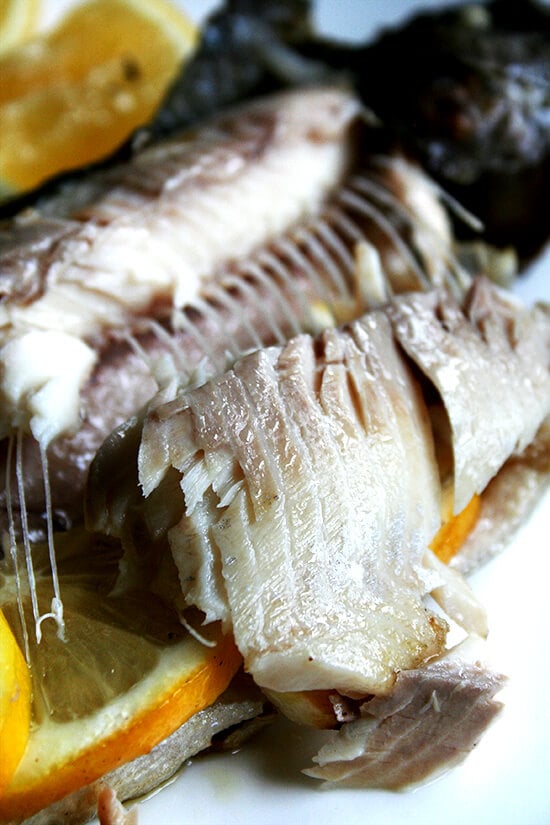 All I want when I'm old and gray is to live steps from a bakery like Tartine, a short drive from some good ethnic food, and a bike ride, perhaps, from a good fish market. Presently, I'm striking out on all three fronts.
A nice fish market, in particular, would be a most welcome addition to my current neighborhood. Discovering this past summer that places like Dockside actually exist, made me want to pack up and skip town permanently. It's just that when fish is that fresh — literally caught off the dock — it needs so little attention to get from the fridge to the dinner table. And when fish that fresh is grilled whole, and the skin crisps, and the meat flakes off the tiny delicate skeleton, tasting not a bit dry or fishy just fresh and delicious, never am I happier.
A recent discovery — that Wegman's sells whole rainbow trout — will likely keep me put for the time being. Farmed rainbow trout, because it is raised in an ecologically responsible way, makes it a Seafood Watch "best choice". What's more, whole rainbow trout is affordable. At $6.49/lb, two whole trout, which will feed three comfortably, cost $11.49. Fresh, sustainable, affordable, delectable? I know, incredible.
Grilling fish whole is a new thing for me, and if you've never tried it, I highly recommend it, especially if who have anxiety about cooking fish — I certainly do. You'll have to, of course, get over the presence of beady eyes and a mouth lined with mini razor sharp teeth, and you should try hard to do so because grilling fish whole is incredibly forgiving — the skin protects it from drying out even in the thinnest spots.
This meal has become a recent favorite. [Read more…]