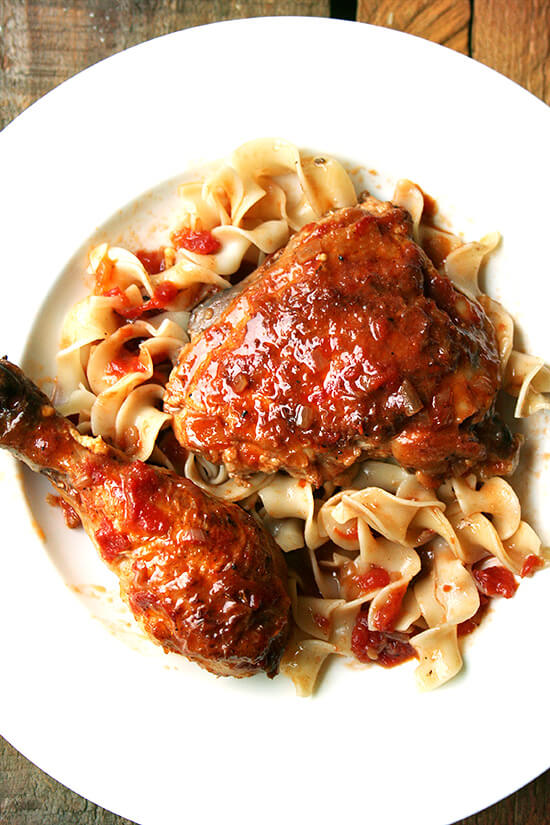 I never imagined an eighth of a cow taking so long to polish off. Seven months after packing our freezer with meat, we have finally made a considerable dent, two pounds of ground beef, one liver, and a few soup bones being all that remain. We have eaten more burgers and tacos than we ever thought possible, and while it has been wonderful having such amazing beef on hand, Ben and I are thinking about our next move.
The thing is is that I miss chicken. I have been spoiled by modern living, by endless variety, by not having to have to buy meat by the quarter animal. This time of year I crave my mother's chicken kapama (Greek red chicken) and these chicken legs baked with white wine and parmesan and the braised chicken pictured here, chicken au vinaigre, another favorite from Sally Schneider's A New Way to Cook.
Subscribing to one of those meat shares that offer lamb, pork, chicken, goat and various other meats would be the ideal. But alas, you can't always get what you want, and I would again be willing to sacrifice variety for grass-fed, local, incredibly delicious beef. It's hardly a tradeoff, really.
Now, back to the chicken. This dish, a classic French preparation, is all about the sauce, a rich concentration of shallots, crushed tomatoes, mustard and reduced sherry and sherry vinegar. As with my mother's chicken kapama, I love serving it with egg noodles, which soak up the delicious sauce so nicely, but a natural (perhaps even more delicious) alternative to the noodles is a hunk of bread. That time of year has certainly arrived, when cleaning dinner plates with crusty bread is more than acceptable. Continue reading