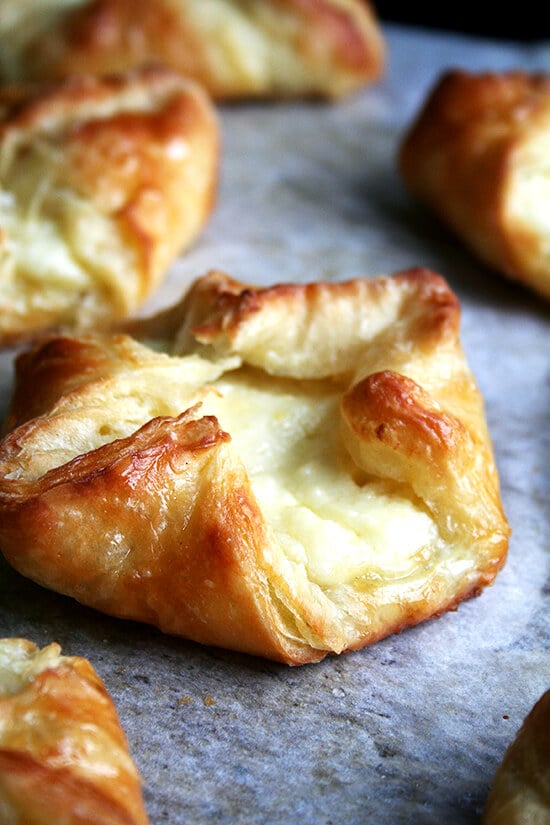 You know what I hate? When I stumble upon this line in a recipe: refrigerate overnight.
'Stumble upon' being the key here. As in, surprise! Gotcha! You thought you'd have me in your belly this morning? Ha! Nice try. Let's reconvene tomorrow, K?
This past Sunday I was expecting my Auntie to arrive in the early afternoon. She was making a special trip to help me out with the kids, and I wanted to welcome her with something extra special. Nigella Lawson's cheese Danishes, a recipe I had spotted in How to Be a Domestic Goddess the night before, sounded ideal for a number of reasons: the pasty is made in the food processor; the filling contains lemon zest and ricotta cheese, two of Auntie's favorite ingredients; and at one point in the recipe Nigella notes that the cheese Danish is her all-time favorite.
It was the intro to the recipe that got me. Nigella describes the practice of making this sort of pastry dough in the food processor as revolutionary not only because the dough comes together in seconds but also because it produces an authentic Danish pastry. She even includes a word of encouragement from Beatrice Ojakangas, the Scandinavian chef who taught her the method via Dorie Greenspan: "Don't think you're cheating by taking the fast track — this is how it's done these days all over Denmark."
Fast track. I never suspected the phrase 'refrigerate overnight' to be in a 'fast-track' recipe. Lesson learned. And truthfully, I should have known better — these sorts of recipes almost always require a lengthy rest period.
Or do they?