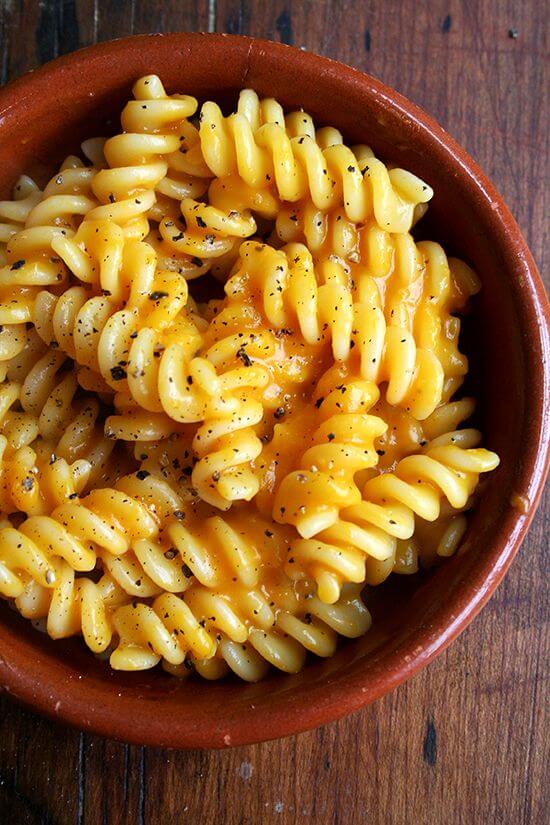 Every so often all of my recipe hoarding proves worthwhile. A couple of nights ago, while fishing through my pasta file, pulling out every gnocchi recipe I have saved over the past decade, I found a recipe — penne with butternut-sage sauce — from a November 2006 Gourmet. Over the past six years, I have thought about this recipe often, as I do most of the recipes I tuck away, but especially this time of year when the butternut squashes and bundles of sage start arriving in my CSA.
I suspected this sauce would be good — the pairing of squash and sage rarely disappoints — but I didn't imagine loving it as much as I did. It seemed too simple. But somehow the sauce, made with only butter, sage, squash, onion and water, tastes almost cheesy or as if it were made with cream or stock or something to provide richness. The butter, of course, adds considerable flavor, and the amount of butter, though I haven't tested it, probably could be scaled back. But if you're not afraid, just go for it. Adults and children (who likely will think it's mac n' cheese) alike will gobble it up. It's a perfect dish for this time of year.
Obviously, this super easy delectable sauce, which could come together in as few as 10 minutes — it was featured on the "10-minute mains" page of that Gourmet issue — is a good one to know if you happen to find yourself extremely pressed for time. It also is a good one to know if you embark on a Homeland-viewing marathon and find yourself incapable of carrying on with life till you catch up with Season 2.
And finally, if you are planning on gathering a few friends for a game-day feast sometime this fall, I have a little menu for you: a cheater's pulled pork served on homemade buns with a fennel and endive slaw on the side. Check out the recipes at Lifestyle Mirror.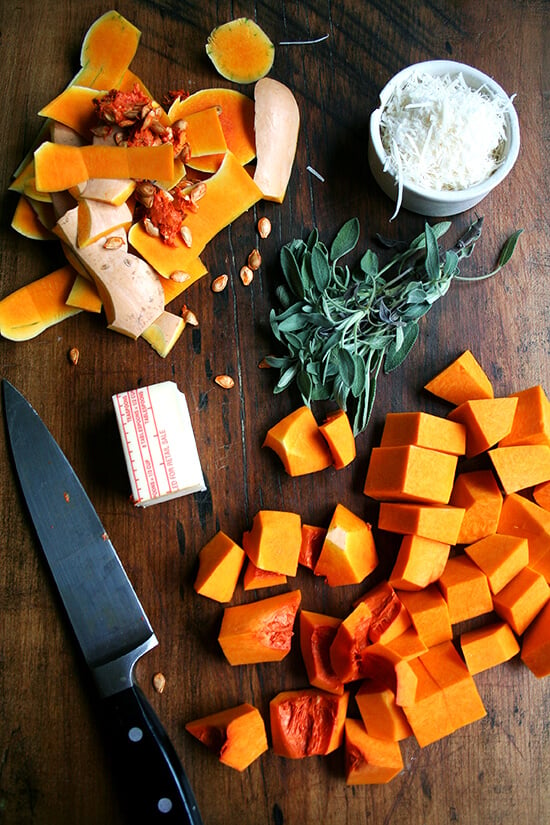 Rotini with Butternut-Sage Sauce
Source: Gourmet 2006
Notes: This recipe appeared in the 10-minute main section and thus calls for processing the raw squash and onion in a food processor. If you are pressed for time and want to follow these instructions, do so here. Otherwise, the method described below takes just a wee longer, and if you have an emersion blender, you're clean-up will be super fast, too. Also, though I haven't tried it, this purée could certainly be turned into a soup if you have a little chicken stock or vegetable stock on hand to thin it to the soup consistency you like.
1 lb peeled butternut squash pieces (my peeled pieces weighed less than a pound)
1 small onion, diced
1/2 stick (1/4 cup) unsalted butter
1 tablespoon finely chopped fresh sage (or a small bunch, unchopped, see recipe for details)
1 1/2 cups water
3/4 teaspoon salt
1/2 teaspoon black pepper
2 oz finely grated Parmigiano-Reggiano (1 cup) plus additional for serving
1 lb penne rigate or rotini or whatever pasta shape you like
1. Heat butter in a 5- to 6-quart heavy pot over moderately high heat until foam subsides, then add sage and cook until fragrant, about 15 seconds. (Note: I just added my bundle of sage to the butter intact and removed it before puréeing the sauce.) Add cubed squash (see photo for size reference), diced onion, water, salt, and pepper and simmer, uncovered, stirring occasionally, until squash is very tender and water has reduced considerably, about 8 to 10 minutes.
2. If you wish, stir in Parmigiano-Reggiano. (Note: I did not do this — the mixture tasted wonderful without any cheese, so I just served the cheese on top of the pasta.) If you didn't chop up the sage, extract what is left of the bundle you added to the pot — I didn't pull out every sage leaf, just the bigger leaves still attached to the stem. If you have an emersion blender, purée mixture right in pot. If you don't, transfer mixture to a food processor or blender. Remove squash mixture from heat.
3. While squash mixture simmers, cook pasta in a 6- to 8-quart pot of boiling salted water with a large pinch of kosher salt until al dente. Reserve 1 cup pasta cooking water, then drain pasta in a colander.
4. Place pasta in a serving bowl. Toss with enough butternut-sage sauce to coat nicely. If necessary, add a little bit of the reserved cooking water to thin it out. Serve pasta with additional cheese on the side. If you have extra sauce, store it in the fridge for a later date. The sauce thickens as it sits, so on subsequent uses, it will most likely be necessary to use the reserved cooking liquid to thin out.